Ranjivost i otpor
pages: 39-52
Džudit Batler

Odsek za komparativnu književnost, Program za kritičku teoriju, Univerzitet u Kaliforniji
References
Ahmed, Sara (2014), Willful Subjects, Duke University Press.
Brown, Wendy (2015), Undoing the Demos: Neo-liberalism's Stealth Revolution, Zone Books.
Butler, Judith (1998), Excitable Speech: A Politics of the Performative, New York: Routledge.
Butler, Judith (2015), Notes Toward a Performative Theory of Assembly, Harvard University Press.
Brezina, Corona (2004), Sojourner Truth's "Ain't I a Woman?" Speech: A Primary Source Investigation, Rosen Publishing.
Dalton, Dennis (1996), Gandhi: Selected Political Writings, Indianapolis/Cambridge: Hackett Publishing.
Davis, Angela (2003), Are Prisons Obsolete?, New York: Seven Stories Press.
Rose, Jacqueline (2013), The Last Resistance, London: Verso.
Sedgwick, Eve Kosofsky (2003), Touching Feeling. Affect, Pedagogy, Performativity, Duke University Press.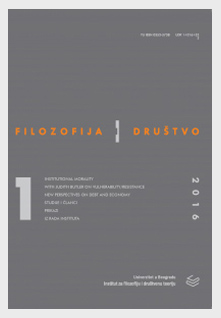 Section
WITH JUDITH BUTLER ON VULNERABILITY/RESISTANCE
Articles published in the Philosophy and Society will be Open-Access articles distributed under a CC BY-NC-ND 4.0 License.