Technikfolgenabschätzung im gesellschaftlichen und kulturellen Kontext (Vorwort)
Abstract
TECHNIK – POLITIK – GESELLSCHAFT
References
Cassirer, Ernst (2004), "Form und Technik", in E. Cassirer, Gesammelte Werke. Hamburger Ausgabe. Hg. von Birgit Recki. Band 17: Aufsätze und kleine Schriften (1927-1931), Hamburg: Felix Meiner Verlag, S. 139–183.
Grunwald, Armin (2014), "The Hermeneutic Side of Responsible Research and Innovation", Journal of Responsible Innovation 1(3): 274–291.
–. (2000), Technik für die Gesellschaft von morgen. Möglichkeiten und Grenzen gesellschaftlicher Technikgestaltung. Frankfurt am Main: Campus.
Kapp, Ernst (1877), Grundlinien einer Philosophie der Technik. Zur Entstehungsgeschichte der Kultur aus neuen Gesichtspunkten. Braunschweig: George Westermann.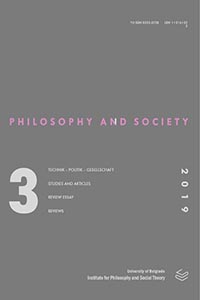 Section
TECHNIK – POLITIK – GESELLSCHAFT
This work is licensed under a Creative Commons Attribution-NonCommercial-NoDerivatives 4.0 International License.
Articles published in the Philosophy and Society will be Open-Access articles distributed under a CC BY-NC-ND 4.0 License.