Lyal S. Sunga (Noam Chomsky, Yugoslavia: Peace, War And Dissolution, Davor Džalto (ed.), PM Press, Oakland, 2018)
Lyal S. Sunga

Visiting Professor, Raoul Wallenberg Institute of Human Rights and Humanitarian Law, Lund
Keywords:
Yugoslavia, war, breakup, Chomsky, genocide
Abstract
In this essay, the author reviews and critically assesses the book Yugoslavia: Peace, War, and Dissolution, authored by Noam Chomsky and edited by Davor Džalto. The author also points to the importance and value of the book for the field of political theory, international relations and Yugoslav studies, examining at the same time particular concepts (such as "genocide") within the broader context of legal theory and international law.
References
Noam Chomsky, Yugoslavia: Peace, War, and Dissolution, Davor Džalto (ed.). Oakland: PM Press, 2018.
Rome Statute of the International Criminal Court, available at https://www.icc-cpi. int/nr/rdonlyres/add16852-aee9-4757-abe7-9cdc7cf02886/283503/
romestatuteng1.pdf
Appeals Chamber Judgment in the Case of the Prosecutor v. Radislav Krstić, available
at http://www.icty.org/x/cases/krstic/acjug/en/040419_Krsti_summary_en.pdf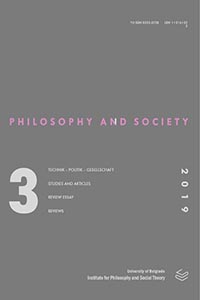 This work is licensed under a Creative Commons Attribution-NonCommercial-NoDerivatives 4.0 International License.
Articles published in the Philosophy and Society will be Open-Access articles distributed under a CC BY-NC-ND 4.0 License.